Continuous liquid-liquid extractor for spilt oil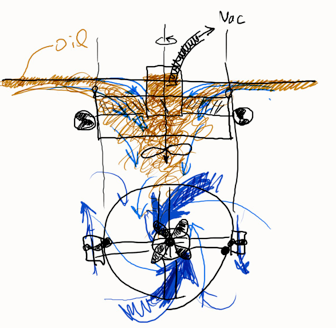 Create a large scale continuous liquid-liquid extractor as follows that can effectively remove (recover) spilt oil on the water (sea) surface at very low cost.
Have two hollow cylinders with different diameter and length, one with ca 10m in diameter and 3m length and the other with ca 3m (d) and 2m (l). Connect these two to become a smaller cylinder inside using a pair of blade with some right angle as it will work to assist the liquid flow. When connect these two each other, have the center of the inner small cylinder to meet the top edge of outer cylinder. Attach an anchor point to outer cylinder at the top. Install a screw facing down with ca 3m rod at the center of the concentric cylinder through a motor, engine, or gearbox connected to a motor. Install a suction pump facing up at the center. Also, install at least a pair of smaller screws with motors to the opposite end of the outer cylinder in orthogonal orientation to counter effect the main screw. Now you hang it with a crane of a tanker and dip it to a sea surface. When you do it, the outer cylinder should be below the surface and the inner cylinder come out of the surface. Turn the screw to push down the polluted sea water to create a whirlpool. The oil with small specific gravity floats at the center of the whirlpool, which is sucked out through a pipe connected to a suction pump.